Injunction sought by medical marijuana proponents would delay SQ 788 implementation, AG says (Tulsa World)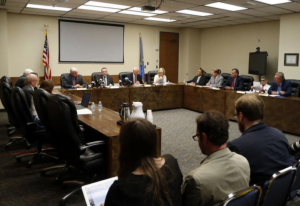 An emergency injunction sought for Oklahoma's most recently passed medical marijuana regulations would hamper implementation of State Question 788, state officials argue.
Oklahoma Attorney General Mike Hunter's office argued that in a response filed Tuesday to a lawsuit that challenged the state Department of Health's authority over medical marijuana and challenged the rules signed by Governor Mary Fallin on Aug. 6.
"An injunction will only affect them by further delaying implementation of SQ 788 — creating precisely the type of harm Petitioners seek to avoid," representatives from Hunter's office state in the response.
Eight state residents, prospective medical marijuana patients and business operators petitioned on Aug. 7 for court intervention in the most recent medical marijuana regulations.
They allege that the revised rules and the initial set of rules that were "apparently engineered to undo by regulation what Oklahoma citizens demanded by legislation," lawyer Rachel Bussett writes in the application for an emergency injunction.
The eight residents filed the initial lawsuit in July in Cleveland County District Court, challenging the state Department of Health's authorities over medical marijuana regulation, alleging the agency's "arbitrary and capricious rules" have denied them either proper access to medical care and treatment or threatened their economic and business interests.